This hub is out of this world. Think Retrograde Motion like the planet Venus.
Patented Planetary Coaster Technology with endless coast
20% lighter than Rush V3 free coaster hub
6061 T6 shell & NDS jam nut
No gap when pedaling forward
Mimics a cassette hub with an added dimension
No oversized bearings due to low axial load, 2 6902
14mm hollow male cr-mo axle
Pop & Go nylon hub guard(s) included
Hi-Low Flange
DS Pitch Center Diameter: 58mm
NDS Pitch Center Diameter: 45mm
DS Center to Flange: 26.1mm
NDS Center to Flange: 27.6mm
Weight: 520g, 575g (with guards)
Colors: Black, Polished (Brant Moore Signature)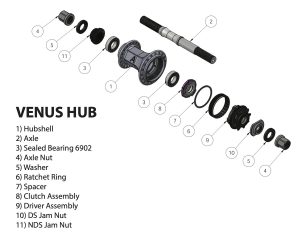 The hub's performance depends on the right amount of friction, provided by the O-ring rubbing on the metal spacer.
Always keep the cone nuts tight.
If the cassette sound is very quiet – the clutch needs cleaning (not enough friction) or the O-ring needs replacement.
Don't add/insert any grease or lube into the internals, unless absolutely required at the pawl.
If the hub makes a squeaking sound, there is too much friction and the clutch needs to be lubricated with a dab of dry lube.
Upon reassembly check axle point where clutch makes contact so it's free of any lubricant.
Removal – Tap the axle through using a rubber mallet from the driver's side so that the axle comes out from the non-drive side.