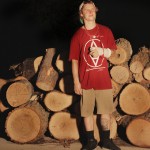 Tony Malouf takes everything that is distinctive about Midwest BMX and combines it to form his unique style. His hard work and attitude yields him the ever sought after street credibility, yet it's his ramp and bowl riding skills that separates him from another local shredder.
From the Gully Factory to other prominent video documentation, Tony's skills in front of the camera are only a small part of what he does behind them. His VX and TRV are always pointed at something and his creative editing and music style is a welcomed breath of fresh air in the abundance of web edits. Plus, it's always good to see someone taking his homies with him on this crazy game of life.
We at Alienation BMX are proud to have Tony as part of our progressive pro team and look forward to everything he brings to the table. Once Tony is back to pedaling expect a slew of new edits. Motivation is a dangerous thing…
While Tony is currently recovering from being hit by a car overseas, he has released this banger clip for his welcome to the team announcement, and it's a wild move. Dropping in to awning to hold on for deal life.  We are hyped to have Tony Malouf as part of the family and can't wait to see the hammers he brings both in front and behind the camera. 
Alienation – Tony Malouf from Alienation BMX on Vimeo.