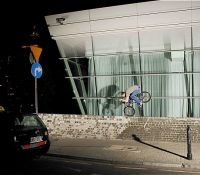 Full Name: Michal Juraszek , but everybody call me "Jura"
Age:20
Birthplace: Warsaw-Poland
1. Favorite place on earth, and why? Every place where are the most important people to me . And where I can ride my bike
2. If you found $100,000.00 on the street tomorrow, what would you spend it on? I will give it back hahah, The half money I will give to my parents then I will by me an old Jaguar XJS'84 and build a huge skatepark in garden. And of course a will travel around the world riding the best places
3. Change 1 thing about BMX, what would it be? I will change the internet kids whose seating front of the computer and writing stupid thinks and thinking that are the best, but really don't know nothing about what bmx is!!
4. Complete this sentence:  Alienation to me is: Great bmx company, I hope to meet some day the team and the chief :D
5. When I wake in the morning, I often think of: what's the weather, what time I will go ride , and I think that maybe a will do something concrete this day haha
6. Mac or PC? I don't mind , computer is computer
7. Do you anticipate having replacement knee surgery by the age of 40? I hope this wouldn't be necessary, but never say no because sometimes they hurt me
8. Worst injury? Ones I had concussion, then I wake up in hospital it was funny because after when I fall I was normally speaking but every thinks repeated ,my friends told me cause I don't remember anything. Thanks my Lady who came and takes my thinks and was the first person I saw when I wake up !  The second worst think was my lips ripped. Thanks to the doctor who sew me askew !!                 
9. Give thanks – Specially I would thanks my parents that they are with me for all these times and my lady.  Skorek who call me and say : Hey would you like to ride on Alienation??!! Alienation for taking me to the team I hope this will be great time!! Kuki and Was from proletaryatbmx.pl , Wojtek from smokestory.pl for giving me some clothes and Ania and Arek whos belived in me and gaves me anything what I want from their shop DEPO and of course all my Friends that I ride whit!!