Buchanan & Pottier Take UCI Worlds Title On Alienation Rims!
July 15, 2012 – Alienation BMX is sending out some BIG congratulations to several UCI Elite World Champions that rode their way to victory on Alienation rims.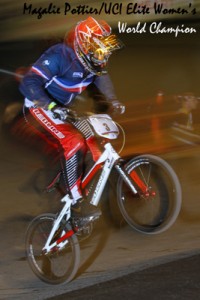 In the Elite Women's class, we welcome Magalie Pottier to the list of Champions who ride Alienation BMX rims. Magalie has been hunting for a championship for several years now and her dedication has paid off with a HUGE win at the UCI BMX World Championships in Birmingham, England.
Magalie brought home a podium finish in last year's World Championship with a nice strong 3rd place finish, and kicked off 2012 with a win at the UCI SX World Cup in Chula Vista.
She battled hard all thru the SX season, including a strong Second Place finish in Randaberg, Norway and surviving a back injury right before the SX race in The Netherlands that lead up to her stunning victory at the UCI Worlds.
Congrats to Magalie, the 2012 UCI BMX Elite Women's World Champion. Check out Magalie's big win, just CLICK HERE!
But Magalie wasn't the only Alienation Equipped Elite to win a World Championship in Birmingham. Just one day earlier, Australia's, Caroline Buchanan fought her way to the top of the competition to capture the 2012 UCI Elite Women's Time Trial Champion.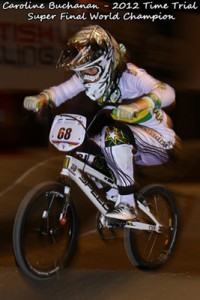 Alienation's, Shanaze Reade came in to the Time Trial competition as the 2011 UCI Time Trial World Champion and is a fearsome competitor whenever she's on the track. Both Shanaze and Caroline battled thru the 50 Elite Women entered in to the event to qualify for the Time Trial Superfinal, a 16 rider 'run what cha brung' shootout. Shanaze went 8th in the Superfinal and set the standard with a blazing hot 29.401 second lap. Shanaze took a seat in the Fiat Hot Seat and one at a time, Crain, Post, Valentino, Le Corguille, and Ailloud took a shot at Reade, only to be held off with her fast lap.
The last rider of the day, Caroline Buchanan, slowly lined up on the gate……the gate slams down and WHAM, CB turns in the FASTEST lap of the weekend, and the only woman to break 29 seconds with a blistering 28.942.
It all came down to the last lap and Caroline Buchanan rode her Alienation Deviant/Runaway combo to victory! While Caroline and Shanaze put on a great show on their Alienation hoops, they weren't the only ones, as an AMAZING 8 of the top 10 Elite Women in the Time Trial Superfinal were on Alienation BMX Combo's!
Congrats to both Magalie & Caroline for their big wins on Alienation product, now it's on to the Olympics to do battle there. Good luck, ladies!