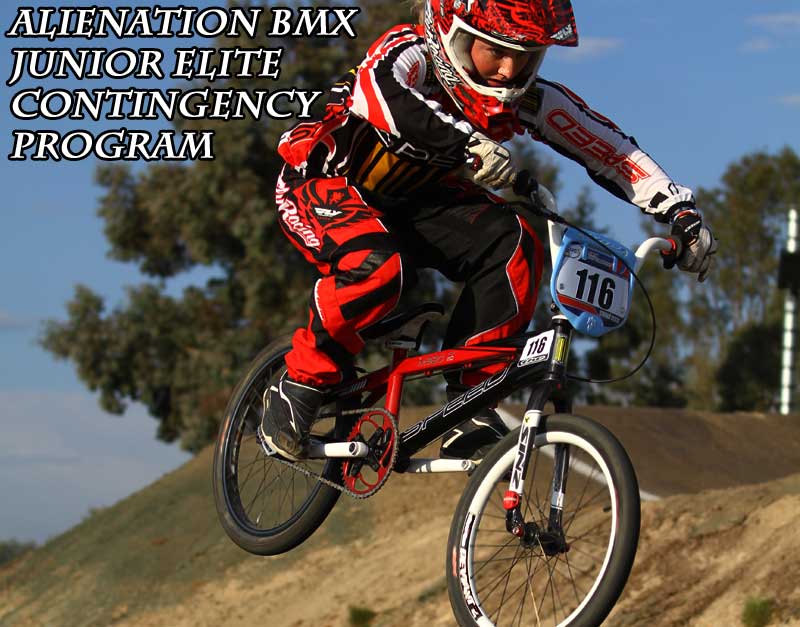 Alienation BMX, the best BMX rim manufacturer in the world of BMX Racing plans to blaze a new trail in BMX sponsorship with a Junior Elite contingency sponsorship program aimed at USABMX Pro Series races for 2012.
The Junior Elite Contingency Program was selected because the staff at Alienation BMX want to invest in the future of BMX and reward deserving BMX racers who are making a commitment to achieving at a level that will prepare them for a great future in BMX racing.
The program will take place at thirteen USABMX Pro Series/UCI points races across the United States from January to November.
Prize money will be allocated as follows, per event. Junior Men = 1st/$50 – 2nd/$40 – 3rd/$30 and Junior Women = 1st/$30 – 2nd/$20 – 3rd/$10.
To be eligible, riders must do the following.
1 – Each qualifying rider must be using Alienation BMX rims (Front & Back) on their bike.
2 – Send Alienation BMX a photo by email or Facebook of their bike and/or themselves at the race in question, preferably a podium shot. The photo should have the track, podium or a track sign with USABMX signage visible in the photo, confirming that the photo was taken during the national in question.
3 – They also should have an Alienation sticker on their bike in the following order of preference. (1/Number Plate … 2/On helmet or prominently displayed on their bike frame.)
4 – Your contingency payment will be verified by way of the official USABMX race results and payments will be made quarterly by company check drawn on U.S. funds.
Here is the list of qualifying races for the Alienation BMX Junior Elite Contingency Program.
Alienation BMX Junior Elite
Contingency Program
Feb 10-12, 2012
USABMX Gator Nationals – Pro UCI Series
Oldsmar, FL
Mar 16-18, 2012
USABMX Super Nationals – Pro UCI Series
Desoto, TX
Mar 30-01, 2012
USABMX SoCal Nationals – Pro UCI Series
Chula Vista, CA
Mar 31-31, 2012
USA Cycling National Championship
Chula Vista, CA
Apr 20-22, 2012
USABMX Winter Nationals – Pro UCI Series
Phoenix, AZ
Jun 01-03, 2012
USABMX Music City Nationals – Pro UCI Series
Nashville, TN
Jun 29-01, 2012
USABMX Great Salt Lake Nationals – Pro UCI Series
South Jordan, Utah
Jul 06-08, 2012
USABMX Stars N Stripes Nationals – Pro UCI Series
Pittsburgh, PA
Jul 20-22, 2012
USABMX Midwest Nationals – Pro UCI Series
Rockford, IL
Aug 31-02, 2012
USABMX Bluegrass Nationals – Pro UCI Series
Louisville, KY
Oct 26-28, 2012
USABMX Disney Cup Fall Nationals – Pro UCI Series
Orlando, FL
Nov 22-25, 2012
USABMX Presidents Cup Race of Champions – Pro UCI Series
Tulsa, OK
Nov 22-25, 2012
USABMX USA BMX Grand National – Pro Series Final
Tulsa, OK
For stickers, email Jerry Landrum/Alienation BMX … jerryl@alienationbmx.com